Architecture Alumni Explore Liberal Arts
By Brianna Grossman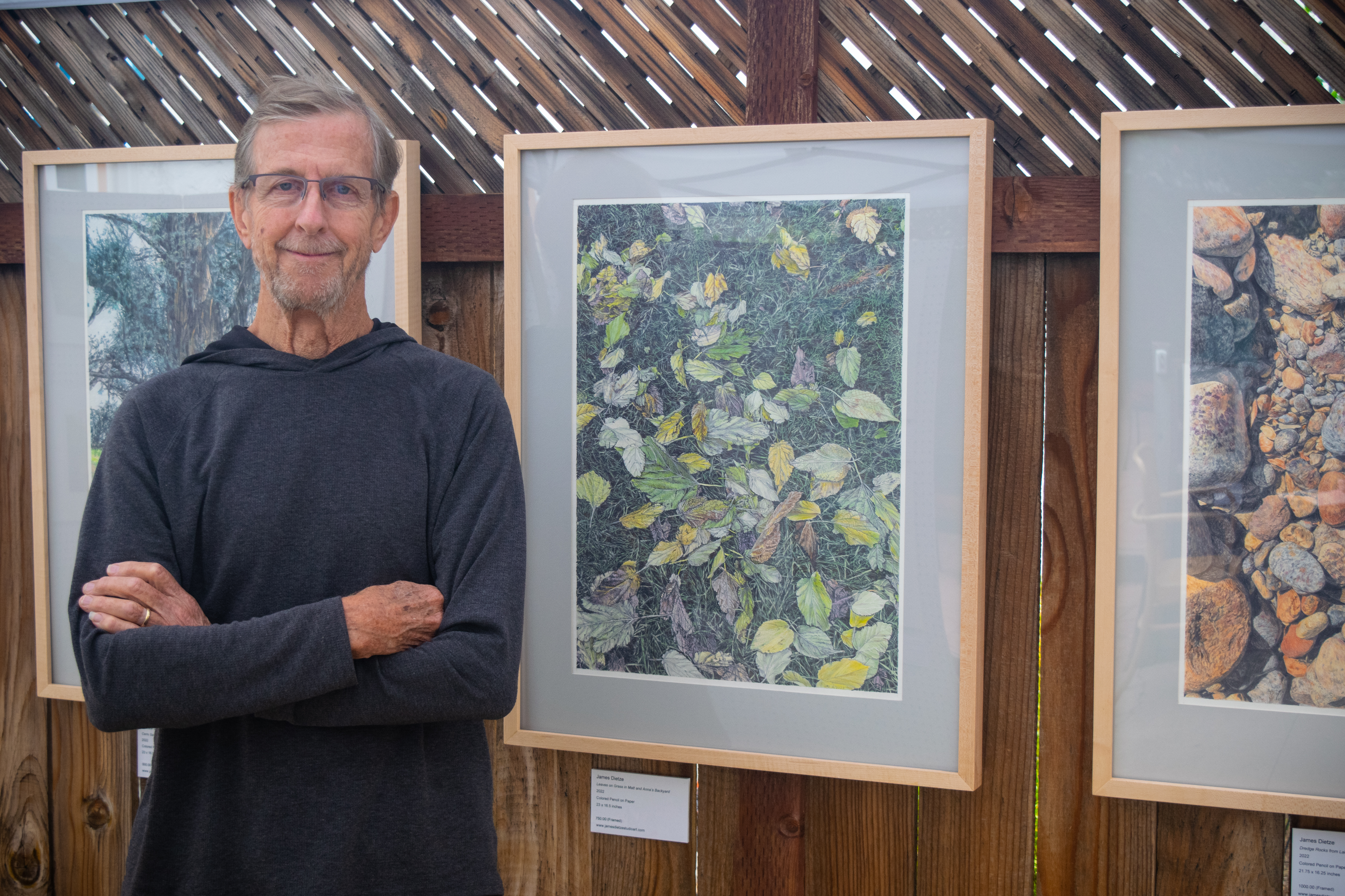 James Dietze poses in front of his collection of colored pencil drawings
Cal Poly's College of Architecture and Environmental Design alumni are taking on new endeavors as they explore the many avenues beyond their career disciplines. James Dietze and Jeff Wilson both graduated from Cal Poly in the 1960s and after long careers in their respective industries, are using their architectural skill to pursue the arts.
Dietze, who graduated in 1969 with a Bachelor of Architecture, is spending his retirement practicing art and hosting studio tours of his work at his daughter's house in San Luis Obispo. His work is a culmination of his passions that stemmed long before he became a successful architect.
Looking back on how he chose his career path Dietze recalls, "I talked to my counselor in high school, and they said, 'What do you like?' I said, math, and art, and they said, 'Why don't you try architecture?' and really, that's how it happened."
From there, Dietze credits the college's architecture studios for fostering a powerful sense of camaraderie with his classmates. "It was like having a home away from home," he remembers.
Dietze went on to work for Architects Orange and quickly became a partner, a role he held for 43 years designing many retail commercial projects. Reflecting on his successful career in the industry, he notes that designing various outlets across the United States and overseas in China and Korea was some of his most rewarding work.
As far as his art career goes, Dietze recalls that he stumbled upon it. He took drawing, painting and photography classes at Cal Poly and spent most of his career practicing design, so the transition to art felt natural.
"I did a lot of drawing in architecture you know, on all my projects, whether I was using felt markers, or colored pencils, or black and white or ink, I used a lot of that and it felt pretty comfortable for me."
During the pandemic, Dietze created a substantial collection of pieces and eventually began showing them at studio tours he held with his daughter, most recently this past October. He appreciates the opportunity of getting to share his work with locals, and hopes his next adventure is using his skills to paint en plein air.
1. Busan Premium Outlets in South Korea, exterior design by James Dietze  2. James Dietze's art displayed during the 2022 San Luis Obispo County Open Studios Art Tour
Jeff Wilson went down a different liberal arts path; one that lead him to writing and publishing his first book, a romance novel based in San Luis Obispo in the 1960s titled "A Hundred Honeymoons."
Wilson graduated from Cal Poly in 1965 with a Bachelor of Science in architectural engineering, but not before many hours spent in rigorous classes where he formed an unbreakable bond with his classmates and especially his professors.
"They really wanted us to succeed. Even when we gave up, they would not let us down; they pressed us. They would come to us after class or something and kick us in the butt to get going," Wilson recalls.
From working on a week-long Poly Royal display project to spending a summer building a campus courtyard, Wilson took these experiences with him to Europe, where he worked on projects in Germany, Italy, England, Libya and Malta. His time abroad eventually led him to settle down and continue his career in Anchorage, Alaska, but his passions remained deep in the heart of San Luis Obispo.
Inspired by Cal Poly and his college girlfriend, the book contains many characters based on Wilson's real-life interactions with people he met and features a very recognizable SLO landscape. Street names, beaches, and local venues are all scattered throughout the story, many familiar to current Cal Poly students.
Wilson's novel stems from a continuous life-long love of writing. "I have been a writer since I was a kid. I had a newspaper column here in Anchorage for a year. I have written plenty of newsletters," he said.
The entire book took nearly 2,500 hours to write, with additional hours spent editing and marketing. The long days of getting his book published remind Wilson of the work he put in at Cal Poly's architecture studios, and he is grateful for the education he received that led him to write his novel.
"What I got out of Cal Poly was absolutely the best education I could have gotten anywhere," he says, "I enjoyed it in a way that you enjoy really, really hard work."
Wilson is currently marketing his book and hopes to eventually transform it into a movie.
1. Jeff Wilson in the "F Lab" during his junior year at Cal Poly. Rich Simpson in the background 2. Front and back cover of "A Hundred Honeymoons" by J.S. Wilson
Although Wilson and Dietze dedicated their careers to the built environment, they were able to translate their skills to explore different art forms actualizing long-held passions.
For now, both alumni will follow wherever their art goes, taking with them the invaluable experiences and skills from their time at Cal Poly.
Related Content