Cal Poly Alum Gives back to Program that Energized his Career
By Brianna Grossman
Ronald Allen, Cal Poly alumnus and the sponsor of the Allen City and Regional Planning Scholarship, at his home in Ventura, Ca
During their time at Cal Poly, students become remarkably familiar with the Learn by Doing philosophy, a message ingrained in its curriculum and culture. Several decades later, city and regional planning alum Ronald Allen can say that his embodiment of that core principle served him well.
A retired Project Manager from the County of Ventura, Ron recently decided to fund the Ronald Allen Scholarship for students in the City and Regional Planning (CRP) department. Like others offered by the CRP, this scholarship recognizes student need, promise and achievement in a broad range of activities related to planning. Ron says the scholarship is part of his responsibility to "pay it forward."
Before his enrollment at Cal Poly, the Vietnam Veteran served in the U.S. Naval Construction Battalion (Sea Bee's) #10 overseas. He stated it isn't commonly known what the responsibilities of Sea Bee's are:
— If the United States is in a military action using Marines, Sea Bee's will prepare and maintain "base camp" infrastructure, including housing, water, power, sanitation, roads and runways for the U.S.M.C.
— During peacetime, Sea Bee's work quietly in the background as "Global Diplomats" providing humanitarian aid to the world's poorest countries. They build schools, community centers, water, power, and sanitation facilities for country villages far from urban centers.
His military service opened doors for him. Upon returning, Ron settled in San Diego and worked as an architectural firm draftsman. There, he met a Cal Poly alumnus who suggested he apply to the College of Architecture and Environmental Design — then known as the School of Architecture and Environmental Design.
Accepted to Cal Poly, Ron was adamant about becoming an architect until he began to explore the possibilities outside his major, noting that Cal Poly's flexible curriculum introduced him to other careers outside of architecture.
"I had my 'ah ha' moment when I took a class on the History of City Planning," he said. "Following school protocols, I changed my major from architecture to city and regional planning."
He realized planners utilized forward thinking to ensure various land uses worked harmoniously to create a vibrant and healthy urban environment. Eventually, his senior project — which included studying San Luis Obispo's historic buildings — earned him and his team the rare opportunity to conduct surveys of the city's historic residential and commercial buildings. The team's Undergraduate Thesis was recognized with an award by the California Chapter of The American Institute of Planners (AIP) in 1975 in the Student Project category. Ron stated that he recently learned that the City of San Luis Obispo used the studies as a basis to create a Historical Element, which was adopted in 1987.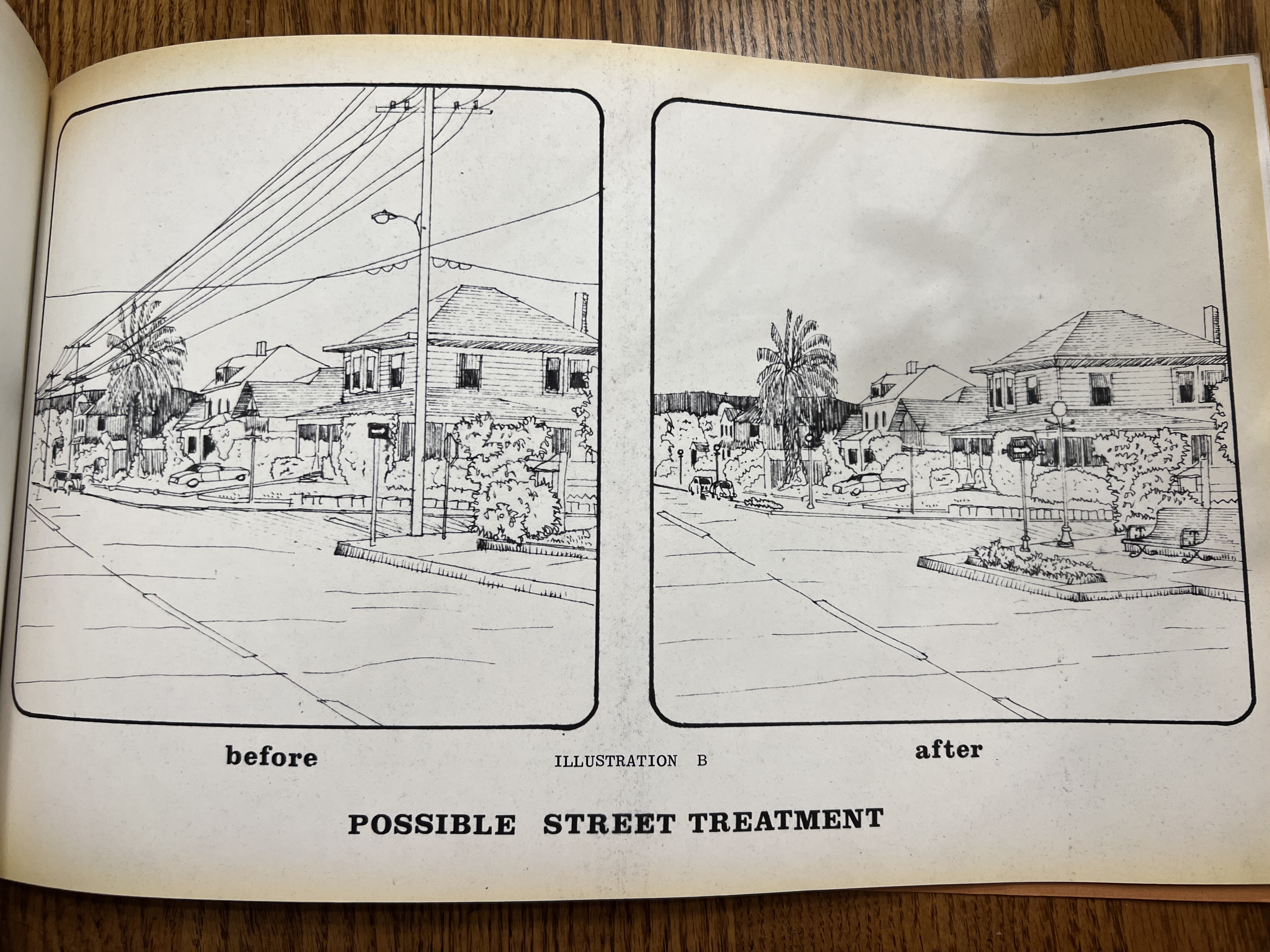 Allen's senior project; a survey conducted of San Luis Obispo's historical buildings used by the city to create a Historical Element
Ron would go on to graduate from Cal Poly and earn a Master's in Public Administration from California State University, Northridge. His career kept him in California, where he carried out several community projects for Ventura County and later worked as a Project Manager on two significant developments:
— Oak Park Planned Community, involving 2,667 acres that incorporated 5,300 dwelling units with an integrated roadway system, neighborhood parks, commercial centers, schools, and 1,600 acres of permanent open space lands.
— Lake Sherwood Ranch, a phased development of 1,990 acres incorporating two private golf courses surrounded by 660 dwelling units, with densities ranging from condominiums to estate acreage lots.
He describes these years of service to his community as the most rewarding part of his career. Reflecting on his 28 years working for the public and his time at Cal Poly, Ron hopes his donation will help CRP students navigate their education and commitment to the public sector without the stress of financial burden.
CRP alumnus Ronald Allen (left) sitting with Head of the CRP Department Amir Hajrasouliha (right)
To support the City and Regional Planning Department in offering scholarships and awards that recognize need, promise and achievement in planning, click Give Now.
Related Content