Alumni Updates
---
Jorge Lee (Architectural Engineering '72) began retirement in the fall of 2020 after 20 years of service as a senior facilities engineer at the Golden Gate Bridge (GGB), Highway and Transportation District. "When I applied at the GGB, they did not have an engineering position, only an inspector position," said Lee. "I took it — and a loss in pay, since I was overqualified. But working five minutes from home could not be too bad." He says that Cal Poly's Learn by Doing philosophy has played an important part in his life. "It has taken me on a lot of adventures," he said. "I rebuilt my house in Sausalito after a fire. I did repairs on my cars, including a Ferrari. I earned third place in an International World Championship Etchells Class race with my three-person sailboat, 'Satisfaction.' I have so much to thank Cal Poly for."
Steve Pelham (Architectural Engineering '76) recently retired after a 43-year career. He worked for several firms prior to joining Jack Barrish in 1987, forming Barrish Pelham & Associates to continue Barrish's Sacramento-area practice. In 2018, the firm was acquired by Degenkolb Engineers, and Pelham remained with the company until his retirement. He served on the Cal Poly Architectural Engineering Advisory Board twice and was president of the Structural Engineers Association of California. In 2004-05, he was inducted into the SEAOC College of Fellows in honor of his distinguished service to the association and outstanding contributions in the field of structural engineering. "Being part of the ARCE community before graduation, after and into today has provided unlimited opportunities," Pelham said. Allen Estes, ARCE Department head, expressed his gratitude toward Pelham. "I am most grateful to Steve for generously sponsoring the Order of the Engineer ceremony, which the department conducts at both the fall and spring graduations. We wish him the best in this new chapter."
Bradford Grant (Architecture '77) is a 2021 Architectural Education Award winner, recently receiving a Distinguished Professor award from the Association of Collegiate Schools of Architecture (ASCA). Each year, the association honors architectural educators for exemplary work in areas such as building design, community collaborations, scholarship and service. Grant is an architecture professor at Howard University and has been in leadership roles at Hampton and Howard universities as chairperson, director, associate dean and interim dean. He also serves as president of the board of the Healthy Building Network and is the co-founder of the Directory of African American Architects, the first comprehensive survey, analysis and report on the numbers and role of African American architects. Read more about his award, and join in celebrating the winners virtually at the ACSA 109th annual Meeting on March 24-26, 2021.
Karen Cribbins-Kuklin (Architecture '82) takes on a new role as chair of the CAED Dean's Leadership Council. As part of her term that began in January, she will lead the council's participation in the college's 75th anniversary celebration. Cribbins-Kuklin is the principal at DGA and has extensive experience leading complex projects across a variety of practice areas, with particular expertise in academic research facilities. She has applied her management skills in all phases of project development, from programming and feasibility studies through construction administration.
Ricardo Arevalo (Architectural Engineering '85), chief operating officer at Simpson Strong-Tie, has embarked on the next chapter of his life: retirement. Arevalo had his own Southern California structural engineering private practice before joining Simpson in 1999 as a branch engineer. Over time, he was promoted to manager, vice president of engineering, and finally the company's first chief operating officer. He also taught a timber design course at Cal Poly Pomona for several years. "My Cal Poly education set the table for a world of opportunities for me: engineering, education and management," Arevalo said. "Undoubtedly, the most gratifying part of all those experiences were the relationships developed with my peers, fellow employees, students and the community. Even in retirement, I hope to continue my special and valued relationship with Cal Poly."
Paul Chinowsky (Architecture '87; Master of Architecture '88) is the director of the Environmental Design Program at the University of Colorado, Boulder, overseeing the architecture, landscape architecture, planning and product design programs. "It has been a great experience having the opportunity to return to my roots as a designer and getting to oversee these programs," said Chinowsky. He is also the founder and president of Resilient Analytics, a consulting firm that examines the effects of climate change on the built environment. "I believe where I am today is completely a result of the great education I received at Cal Poly," he said. "I received my Ph.D. in civil engineering from Stanford and that opportunity was facilitated by Professor Jens Pohl, who, like many Cal Poly faculty, took so much time mentoring me and providing me opportunities to grow and succeed."
Michelle Kam-Biron (Architectural Engineering '87) recently accepted the position of mass timber specialist for the Southern California region of Structurlam. The company is a new mass timber manufacturer that blends the science of wood with timber engineering and product application. She previously was vice president of education for the American Wood Council (AWC), responsible for developing education on building codes and AWC standards as well as an effort to expand university-level wood design course offerings. Kam-Biron volunteers on the National Council of Structural Engineers Association's Basic Education Committee, the International Code Council's Professional Development Council Education Committee and is chair of the American Society of Civil Engineering-Structural Engineering Institute Wood Education Committee as well as the Structural Engineers Association of Southern California Women in Structural Engineering Committee.
David Moore (Architecture '87) is president and chief executive officer of WATG, the world's leading travel and tourism design firm. Moore transitions from his current role as chairman of the board in late February. He joined the firm in 1989 in the Honolulu office and is the first company CEO to be based in the Asia Pacific region, a region he is credited with pioneering for the firm in the 1990s. He has more than 30 years of design experience. A few of his notable projects include the Four Seasons Tianjin, the Conrad Maldives, the Bellagio Shanghai, and the Ritz-Carlton and JW Marriott in Beijing. Read more.
Donna Clandening (Architectural Engineering '87) was featured in the fall issue of Connections as the CAED's 2020 Honored Alumna. She is the principal and chief strategy officer at AC Martin Partners, a Los Angeles-based architecture firm. On Feb. 5 she and others were highlighted in the first-ever 2020 Virtual Honored Alumni Awards Celebration. Click here to watch the video about her accomplishments, and watch the entire presentation that honors seven other Cal Poly alumni.
Tony Piscitello (Construction Management '90) has joined USA Construction Management Inc. as president. He has more than three decades of construction management experience, most recently as construction vice president for Mill Creek Residential Trust LLC in Portland, Oregon. Piscitello will oversee the firm's affordable and market-rate multifamily construction efforts, including pre-development, construction, and the turnover of completed projects to property managers.
Marcus Staniford (Construction Management '91), current president of the Construction Management Advisory Council, was promoted last July to chief operating officer of XL Construction. In this new role, he oversees all of XL's project operations, as well as the firm's team-leading efforts in sustainability and integrated solutions that include preconstruction, estimating, construction technology, data analytics and scheduling.
Heather Bradley (City and Regional Planning '92) and Geoff Bradley (City and Regional Planning '92; Master of Architecture '05) have created an endowment to expand diversity among city and regional planning students by extending the reach of the Cal Poly Scholars program. Read more in this edition of Connections.
Heather Kearsley Wolf (Construction Management '94) is the founder and lead designer of the high-end bedding company Kearsley, and is offering her fine linens to online buyers for the first time. Due to the pandemic, the Sonoma-based brand has adjusted its line of custom-made bedding, including embroidered borders. Kearsley Wolf designs the products herself using Italian-made high-end linens. As part of her outreach during the pandemic, Wolf began making masks, later donating thousands of yards of fabric to volunteers making masks throughout the country at a variety of locations from churches to the Navajo Nation. She came to Cal Poly with a background in construction, having grown up through a series of her parents' home-remodeling projects in Sonoma Valley. "I pretty much grew up in a construction site," she said. It inspired her to study construction management and continue on as an interior design graduate from the International Academy of Design and Technology in Chicago. (Photo by Robbi Pengelly/Sonoma Index-Tribune)  
Kyle Larkin (Construction Management '96) was appointed in September of 2020 as president and principal executive officer at Granite Construction Inc., one of the largest diversified construction and construction materials companies in the U.S. He replaces the retiring president and CEO James Roberts, who was instrumental in supporting Cal Poly's Heavy Civil Program. Larkin joined Granite in 1996 as an estimator in the company's Reno, Nevada, location and has held positions of increasing responsibility, including project engineer, project manager and chief estimator. In 2019, Larkin was named senior vice president and manager of the Construction Materials Operations, which comprises the California Group, the Northwest Group, the Infrastructure Services Group, and all vertically integrated materials facilities. In 2020 he served as executive vice president and chief operating officer. Larkin holds an MBA from the University of Massachusetts, Amherst.  
Carmen Trudell (Architecture '01) serves on the board of the Building Technology Educators' Society with the distinction of being both a past-president and president-elect. The organization's mission is to promote and publish the best pedagogic practices, relevant research, scholarship and other creative activity to facilitate student learning, advance innovation, and enhance the status of building technology disciplines in the profession at large. She is an associate professor and assistant department head in Cal Poly's Architecture Department.


Sarah Vaccaro (Architecture '09), Kate Conley (Architecture '09), and Leah Bayer (Architecture '14) are the new owners of OJK Architecture and Planning, founded in 1981 by CAED alumnus Jerome "Jerry" King (Architecture '74). OJK is a leading name in affordable housing design in the south Bay Area.
"My partners and I have tremendous respect for what Jerry has built," said Vaccaro, a principal at the firm. "We value his ongoing collaboration as we continue his legacy." Her current focus is affordable housing in order to meaningfully pursue architecture that is restorative to those individuals, families, and communities most in need of safe and stable homes.
As a principal, Conley brings strong technical and design expertise gained as an associate at Pritzker Prize-winning Foster+Partners and from her mentors in architecture and construction. "My focus is on the areas of cross-pollination and lessons learned between the broad spectrum of project types I have designed: multi-family, retail and commercial office," she said.
Bayer, who serves as president, said the firm remains "committed to a restorative practice whose mission aligns with our clients' to increase quality housing and strengthen our communities." She joins OJK with a background in creative business design and management focused on transparency and equity, most recently having founded EVIA Studio, a highly collaborative, women-led, and virtual architecture practice.
King is a past-president of the AIA Silicon Valley Chapter, served as an AIA California Council board member, and in 2010 was named to the National AIA College of Fellows. "I am profoundly proud that three such gifted architects will be continuing OJK and continuing to improve our communities," said King. "Our clients and stakeholders are in terrific hands as a new generation of leaders continues our legacy."
Pictured from left to right are Vaccaro, Bayer, Conley and King.
Shane Saltzgiver (Construction Management '09) has had a rewarding journey since graduating into the global economic crisis of 2009. He worked as an ice delivery man and electrical project manager before founding VEC, a construction technology firm supporting many large U.S. construction projects. The company celebrated a milestone: 100 people and 100 projects in three years. VEC has become a global force with 115 team members in five offices on three continents. "I am eternally grateful for the foundation that Cal Poly has given me to pursue my unique purpose so I can share my passion with students and others in our industry," he said. "I enjoy every chance I get to stay connected."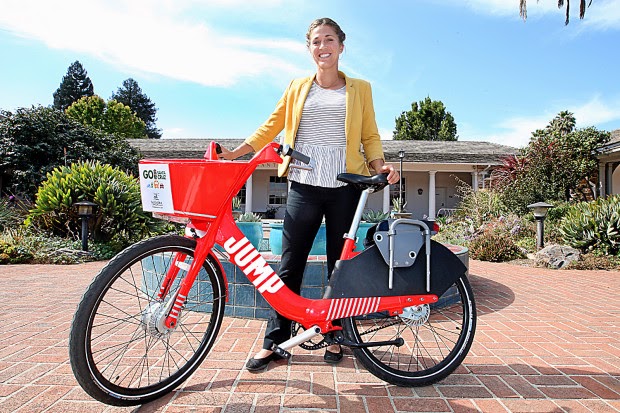 Claire (Fliesler) Gallogly, (City and Regional Planning '10) is passionate to work for the city of Santa Cruz, which is where she grew up. As the city's transportation planner, she points to the implementation of a bike-share partnership program between the city and JUMP Bikes as her proudest accomplishment. The program, which cost the city just staff time to implement, was an incredible feat, that overcame initial neighborhood opposition and the fact the Uber-owned company had never signed on with a city with just 67,000 residents. Gallogly persevered, standing firmly in her belief that the program would be a powerful public good. "This isn't about the individual, this is about the entire community," she said. Her next goal is to reduce Santa Cruz's drive-alone rate. She is grateful to Cal Poly and the CRP program that taught her what it is to build good cities. She is especially grateful for the studios and practical experience she received, as well as the network and lifelong friendships she made along the way.
Brian Poage (Construction Management '12) was featured in a recent podcast exploring how contractors can distinguish their businesses while delivering projects during the COVID-19 pandemic. In the podcast, he suggested committing to an unusual pandemic toolkit and observed that valuable business relationships can be forged in "foxhole environments like today's." He is the construction support manager at Raken, a construction software company focused on improving field workflows by leveraging technology. He and his wife live in Carlsbad, California, and own a small retail shop, The Aloha Bungalow, in their hometown of Redondo Beach. Poage previously managed projects for Turner Construction and at WeWork. Read more and listen to the podcast.
John Choi (Construction Management '14) has been working for the last five years as a construction manager at the U.S. Department of Energy National Science Lab at Stanford University. His work has involved managing federally-funded X-ray research construction projects. After graduation, Choi worked as a construction project engineer for Webcor Builders, where he helped to manage the construction of Samsung's North America headquarters in San Jose, California. The $400 million project is a 10-story, 1.1-million-square-foot office building, including a data center and a parking structure. The complex was completed in late 2015. Choi, a LEED-accredited professional, earned a construction manager certificate from the Construction Management Association of America. He is pursuing an MBA degree from the Kelley School of Business at Indiana University.
Zahra Safaverdi (Architecture '14) Safaverdi was appointed as a Schidlowski Emerging Faculty Fellow at Kent State University and presented her work on digital imagery at the University of Virginia's Projecting Fellows Symposium Series, a forum that gathers a new generation of architects and academics to explore a cross section of emerging interests in the discipline. 
Matty Reed (Construction Management '15) has returned to Cal Poly to teach the advanced building information modeling (BIM) course based on his experience with BIM and virtual design and construction in the architecture, engineering and construction industry. His teaching incorporates the current state of technology applied to real-world projects and distills key aspects of BIM into the curriculum using the most advanced tools available. The course is designed so that each new project uses the data created from previous assignments, which simulates real project data-flow. Students form teams to learn various cloud collaboration tools. "Integrating technology into education is one of my long-standing passions," Reed said. After graduating, he founded the Construction Technology in Education committee and serves as its chair. It is a subcommittee in the Construction Management Advisory Council. "Teaching this class has allowed me to come full circle from when I first took Emerging Trends in 2012."
Related Content